SSI's control systems with optional remote monitoring are not only highly effective they also prove to be remarkably economical.
Control Panels built by SSI are designed by engineers with years of exerience in the field and technicians who have direct experience with day to day control panel operation, and who put their knowledge to use in both control panel and control system design.
SSI ensures that the controls we provide are perfectly matched to each customer's remediation and water treatment system. Whether built to your design specs, or completely engineered by SSI, each control package is designed to meet site specific needs.
SSI Control Panel Features
UL type 4/12 enclosure standard, optional UL type 4 X SS/FRP fully gasketed window kits
Dead front enclosure with sub-plate and swing-out panel ensures physical and environmental protection of control panel components
All switches are NEMA 4 and can withstand weather and environmental elements.
All motors are controlled via IEC, adjustable, manual motor starters, this provides for long term reliability and easy troubleshooting.
All wiring connections within our control panels are touch safe which adds to our operator safety features.
UL 508 and 698A certification
CAD generated ladder diagrams are easy to follow. Numbered wires and labeled terminal strips make connection of supply power, motors and auxiliary equipment simple.
Control Systems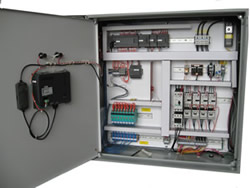 Standard Control Panel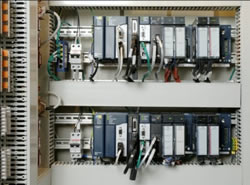 Standard Control Panel