Oxygen enrichment provides enhanced stripping of VOCs from the aquifier while introducing oxygen as a highly reactive oxidant to destroy the target compounds.
SSI's oxygen enrichment systems destroy organic chemicals through the process of chemical oxidation, which breaks the targeted organic chemical down into carbon dioxide and water
Oxygen enrichment remediation successfully destroys petroleum hydrocarbons such as TPHg, TPHd, BTEX and MTBE in both groundwater and soil applications

Oxygen Enrichment is also a green technology not requiring any handling of dangerous chemicals.
Controls: SSI designs controls systems that meet each site's unique requirements. We guarantee a flawless integration between our control package and individual component operation.
Services: SSI's full range of services includes well field design and installation as well as system start-up and System O&M.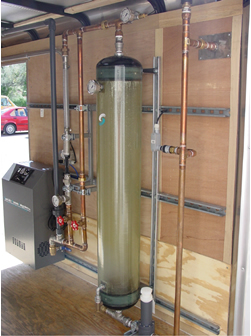 Portable Ozone Injection System