SSI's Iron Removal Systems treats iron and manganese with a three-step process of oxidation, precipitation, and filtration. An oxidizer is added to the water, which induces precipitation of the iron and hydrogen sulfide, and the precipitated contaminant is then filtered out of the water.
As part of our commitment to use green remediation technologies, SSI has effectively implemented this Iron Removal System that contains no disposable parts or chemical feeds.
Controls: SSI designs controls systems that meet each site's unique requirements. We guarantee a flawless integration between our control package and individual component operation.
Services: SSI's full range of services includes well field design and installation as well as system start-up and System O&M.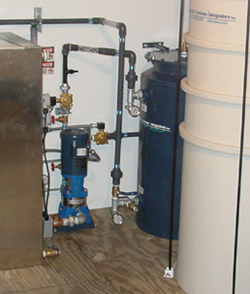 Trailer mounted Iron Removal System